Idavee Brand Presto Pure Soy Milk Maker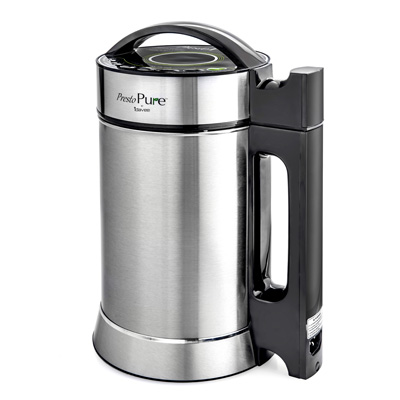 The Idavee Brand Presto Pure™ Automatic Soy Milk Machine is the highest capacity machine of its kind. The Idavee Brand Presto Pure™ is capable of making 1.9 liters of milk at a time. That's just over a half gallon! In thirty short minutes, you'll have fresh, homemade milk with no additives like you'd find in store-bought milk. You can also easily make nut, seed, rice, coconut, hemp, oat milk and more.
Our designers wanted to create a soy milk maker that would look fantastic on your kitchen counter. We modeled our design after a typical modern coffee maker. It is about the same size and look as an average coffee maker. The beautiful stainless steel exterior looks great in any kitchen.
Speaking of stainless steel, did you know that the Idavee Brand Presto Pure™ Soy Milk Maker is constructed of not one, but two layers of stainless steel? Try to find that in another soy milk machine. Other than the beauty, the benefit of this is the noise and heat dissipation. Although not recommended, you could touch the outside of the machine while it's working and not get burned. This is comforting in a household with children, who always seem to grab things that you thought were out of reach. The noise level of this machine is comparable to a standard dishwasher. The inside of the machine and the mixing blade are made completely of 304 food grade stainless steel.
Don't forget that you can make so much more than milk in this machine! Pureed soups, oatmeal (porridge), pastes, and juice are among some of the other things you can make.
Overview:
1.9L Capacity (1/2 gallon) - largest on the market
Dual layer stainless steel body/chamber
Filterless grinding for easy cleaning
Bottom heating for even cooking
Idavee Brand Presto Pure Nylon Straining Bag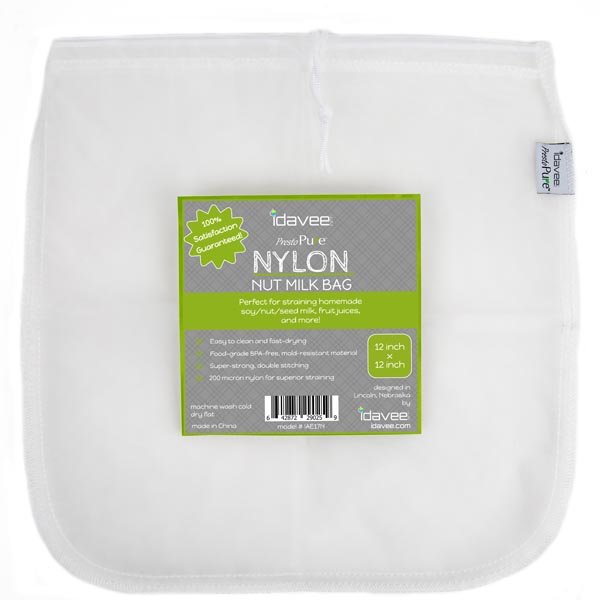 High-quality double-stitched 200-micron food-grade nylon for perfect straining every time
Perfect for straining soy milk, almond milk, cashew milk, rice milk, hemp milk, fruit and vegetable juice

One year satisfaction guarantee from Idavee, LLC in Lincoln, Nebraska

Easy to clean nylon - wash with soap and water, air-dries quickly


BPA-free, mold-resistant material
Designed by Idavee, LLC in Lincoln, Nebraska, we wanted to create a straining bag that would work well with our top-selling soy milk maker. This 12x12 nylon nut milk bag is perfect for straining.